(Last Updated On: 2 October 2023)
Flexible Adhesive: Adiseal Strong Durable Bonds
Adiseal flexible adhesive provides a strong and non-brittle adhesive bond making it more durable than non-flexible adhesives. Flexible adhesives are used in many different construction applications, bonding a variety of different materials. Adiseal is a high performance flexible adhesive that has shown to be stronger than other products in an independent adhesive strength test.
Why use a flexible adhesive
Temperature changes
Vibration
Moisture changes
Wind
Knocks
Sound
Expansion
Contraction
A non-flexible adhesive undergoes a hardening process, increasing its susceptibility to becoming brittle. This brittleness poses a greater risk of adhesive failure. A brittle adhesive bond is prone to cracking, weakening over time, and eventually leading to complete failure. In contrast, a flexible adhesive is capable of absorbing stresses and joint movement without succumbing to cracking, providing a resilient and more durable bond. It can absorb the stresses of the situation put on the adhesive.
Problems of using the wrong adhesive
When a non-flexible adhesive is used in a scenario where a flexible product should have been applied, several issues can arise. One of the primary problems is the lack of joint movement accommodation. Non-flexible adhesives tend to set hard and become brittle, unable to withstand any significant movement or stress. This can result in the adhesive bond being compromised over time, leading to cracks, delamination, or complete failure.
Additionally, without the flexibility provided by a suitable adhesive, the bonded items may experience structural issues. For instance, in applications involving materials with different coefficients of expansion, such as metal and plastic, non-flexible adhesives cannot adapt to the varying rates of expansion and contraction. This can cause the adhesive to weaken, resulting in gaps, leaks, or even disintegration.
Furthermore, non-flexible products may not be capable of withstanding environmental factors like temperature fluctuations, moisture, or vibrations. These conditions can further exacerbate the rigidity of the adhesive, leading to premature failure of the bond and potential damage to the entire assembly.
Overall, using a non-flexible adhesive instead of a flexible one in situations that demand joint movement and flexibility can lead to weakened bonds, compromised structural integrity, and ultimately, a higher risk of failure. It is essential to choose the right adhesive that matches the specific requirements of the application to ensure long-lasting and reliable results.
The video below shows an application where a non-flexible adhesive has failed. If a flexible product was used instead, then they would not have experienced the adhesive bond failure that the non-flexible adhesive experienced.
Best flexible adhesive
To find out the strongest and best adhesive, Ultimate Handyman conducted a series of adhesive strength tests. The results were nothing short of impressive. Adiseal emerged as the indisputable champion, demonstrating unparalleled strength that far surpassed all other competitor products. In fact, no other adhesive even came close to matching the incredible adhesive power of Adiseal with it being over 3 times stronger than the nearest competitor. Witness the astonishing test yourself in the video below.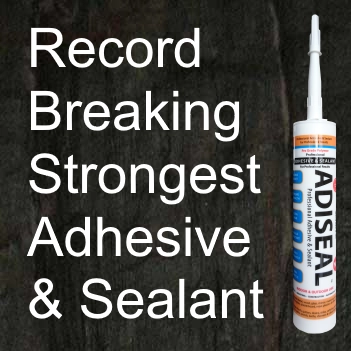 The best adhesive was Adiseal
Strongest adhesive strength test results table
"That is actually unbelievable!"

Ultimate Handyman
Testimonials
That Adiseal is phenomenal!
That Adiseal is some stuff though, definitely need to get some of that bought!
I instantly went looking for Adiseal!
Need to get my hands on some of that to try out.
Looks like a cracking product.
Having used the two most expensive brands on numerous occasions, I'll be trying out the others, especially the Adiseal.
Adiseal certainly surprised me in this test!
Fantastic tests. It's unbelievable that Adiseal test with the hardwood.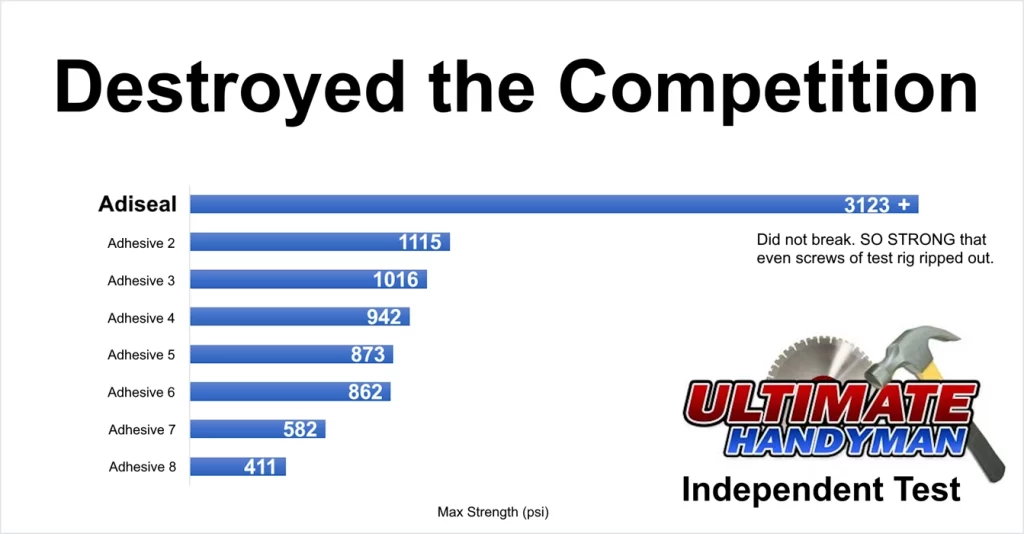 How to use a flexible adhesive – step by step guide
How to use a flexible adhesive
Surface Preparation

Ensure that the surfaces to be bonded are clean, dry, and free from any dirt, dust, grease, or contaminants. Clean the surfaces thoroughly using an appropriate cleaner or solvent if necessary.

Application

Apply the product evenly to one of the surfaces using a suitable applicator, such as a brush, nozzle, or spreader. Follow the specific instructions provided by the adhesive manufacturer regarding the application method, coverage, and thickness.

Bonding

Align the surfaces to be bonded and carefully press them together, applying firm and even pressure. Make sure the adhesive spreads evenly between the surfaces, ensuring maximum contact.

Curing Time

Allow the adhesive to cure as per the manufacturer's instructions. This typically involves giving it sufficient time to dry and develop a strong bond. Keep in mind that curing times can vary depending on the type of adhesive used, environmental conditions, and the materials being bonded.

Clean-Up

Remove any excess adhesive immediately using a suitable solvent or cleaner recommended by the manufacturer. It's easier to clean up uncured adhesive before it dries and hardens.

Post-Cure

After the initial curing period, it is advisable to allow additional time for the adhesive to fully cure and reach its maximum strength. This may involve keeping the bonded item in a stable environment with optimal temperature and humidity conditions.
Tip: To store Adiseal once opened, leave about 1cm worth of product out of the nozzle and store the tube upright in a cool dry place. Adiseal requires moisture for it to cure. The exposed part out of the nozzle will cure creating a cap. To re-use Adiseal, pull the cured part out or cut the nozzle until the uncured part is reached.
Extra strong flexible adhesive for many different items
Adiseal flexibility demonstration
The video shows the flexibility of Adiseal adhesive & sealant once it is cured.
Flexible PVC adhesive
Adiseal is a robust and flexible adhesive specifically formulated for bonding PVC and numerous other plastics. While it excels in creating strong bonds on PVC materials, it is important to note that it is not suitable for some plastics like polypropylene or polyethylene. To achieve the utmost bond strength, ensuring the thorough cleanliness of both surfaces is of utmost importance. Adiseal proves to be an excellent choice for PVC cladding, PVC trunking, PVC pipes, and various other items that require a strong and flexible PVC adhesive solution.
Flexible wood adhesive
Adiseal goes beyond its exceptional performance as a strong and flexible PVC adhesive; it also shines as a formidable wood adhesive. Capable of delivering a robust bond on various types of wood, Adiseal proves its versatility and reliability in woodworking applications. To achieve the utmost bond strength, it is vital to ensure thorough cleanliness of both wood surfaces prior to applying the adhesive. By adhering to this crucial step, the bond created with Adiseal will exhibit unmatched strength and durability, providing confidence in any wood bonding project.
Adiseal Applications and Benefits
Works in dry, wet, even underwater
Best grab (for even higher grab use the Adiseal Hi-Grab adhesive)
Fast power grab and bond grip
Over paintable (with most paints)
Non brittle (stays flexible)
UV resistant
Virtually odourless (no harsh smell)
Isocyanate free
Solvent free (safe for sensitive materials)
No shrinkage or cracking
Flexible adhesive
Prevent fungal growth
Prevent bacteria growth
Good resistance to chemicals
Indoor and outdoor suitable
EC1 Plus certified (no VOC)
ISEGA certified – safe for use in food preparation areas
It can be manufactured in any RAL colour.
Where to buy flexible adhesive
In the UK, to buy flexible adhesive, please contact us for details of your local stockists. For other countries, Adiseal products can also be purchased from https://guglue.com/product-tag/flexible-adhesive/
Frequently asked questions about flexible adhesive
What is the best flexible adhesive?
In an independent adhesive strength test, Adiseal was found to be the best adhesive. It was a lot stronger than all the other products that were tested. In the wood to metal adhesive strength test, Adiseal flexible adhesive was way stronger than anything else tested.
What are the advantages of using a flexible adhesive?
Flexible adhesives offer several advantages, such as accommodating joint movement, preventing cracks or failures, providing resilience in varying conditions, and maintaining bond strength over time.
What materials can be bonded using a flexible adhesive?
Flexible adhesives can bond a wide range of materials, including plastics, metals, wood, rubber, fabric, and more.
Can flexible adhesive be used for outdoor applications?
Yes, many products are designed to withstand outdoor conditions, including exposure to sunlight, moisture, and temperature fluctuations.
How do I ensure a strong bond with flexible adhesive?
To achieve a strong bond, it is important to ensure both surfaces are clean, dry, and free from contaminants. Following the manufacturer's instructions regarding application thickness, curing time, and surface preparation is crucial.
Are there any limitations to using flexible adhesive?
Some products may not be suitable for bonding certain materials, such as polypropylene or polyethylene. It is important to check the manufacturer's guidelines for compatibility with specific materials.