(Last Updated On: 24 June 2022)
Best construction adhesive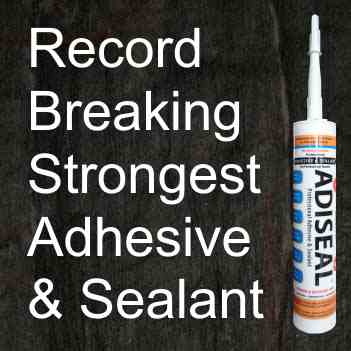 Construction adhesive strength test
Cleaned the metal sheet.
Applied each adhesive to the hardwood.
Firmly pushed the wood down on the metal.
Waited until each adhesive had cured.
Used a hydraulic ram to break each construction adhesive bond.
Measure at what pressure each bond broke at.
The best construction adhesive was Adiseal by far
No other construction adhesive that was tested came anywhere near the best product, Adiseal. It was over 3 times stronger than the next best product. Adiseal was so strong that the test on it was forced to abandoned as the screws holding the metal sheet down started to rip out. The hydraulic ram seal also broke causing hydraulic ram to leak fluid. Adiseal was too strong for even the test rig.
"That is actually unbelievable!"

Ultimate Handyman
Testimonials
That Adiseal is phenomenal!
That Adiseal is some stuff though, definitely need to get some of that bought!
I instantly went looking for Adiseal!
Need to get my hands on some of that to try out.
Looks like a cracking product.
Having used the two most expensive brands on numerous occasions, I'll be trying out the others, especially the Adiseal.
Adiseal certainly surprised me in this test!
Fantastic tests. It's unbelievable that Adiseal test with the hardwood.
What about other construction adhesives?
Other construction adhesives were not tested in this video as they had already been tested previously by Ultimate Handyman. In these previous tests, products from Soudal, Everbuild, Geocel & C-Tec CT1 were tested as well as the old formula of Adiseal.
What is the best construction adhesive?
To claim to have the best construction adhesive is very easy but to prove it is another matter. Manufacturers can make very bold claims about their products, like being 360% stronger than competitor products. In reality some of these very bold claims are just manufacturers marketing hype. Is there any independent data to back up these claims?
The real way to find out the best product is not to listen to manufacturers marketing claims but to check independent tests. In the independent test, Adiseal has proven to be the best construction adhesive.
The other way to find out is to test the product yourself. Adiseal are confident to back up the claims. They are willing to provide a free tube to any trades person in the UK so that they can test it themselves. See the offer page for more details on how to get a free tube.
Adiseal strongest again in metal to metal construction adhesive strength test
In another heavy duty construction adhesive strength test between metal to metal, Adiseal was strongest again. In a similar way to the previous test, a hydraulic ram was used to break the adhesive bond. The pressure was then measured at which adhesive bond broke at. Just like the wood to metal adhesive strength test, Adiseal finished top again in the metal to metal adhesive strength test.
Applications & Benefits
Works in dry, wet, even underwater
Best grab (for even higher initial grab use the Adiseal Hi-Grab product)
Waterproof adhesive & sealant
Over paintable
Non brittle
UV resistant
Virtually odourless
Isocyanate free
Solvent free
No shrinkage or cracking
Prevent fungal growth
Prevent bacteria growth
Good resistance to chemicals
ISEGA certified – safe for use in food preparation areas
Details of benefits
Strongest waterproof construction adhesive
Adiseal is also the strongest waterproof construction adhesive. It can be applied on dry, damp, wet surfaces and even underwater. When a product is going to be used in applications where there will be water, it needs to resist mould. To find out just how well Adiseal resists mould growth we carried out several tests. Adiseal performed the best with the strongest mould resistance.
Clear construction adhesive in water
Adiseal Ultra Clear was tested again in a cup of water. It was the best product again at staying clear in water. The other products being tested turned white.
Exterior uses
Adiseal is a waterproof construction adhesive sealant. This makes it the ideal exterior construction adhesive as well as for interior uses.
Instant Grab
A heavy duty construction adhesive needs to have high instant grab. Adiseal has very high initial grab in the dry or wet. Adiseal Hi-Grab has even higher instant power grab. This saves time as temporary supports should not be required. With other products, temporary supports may need to be used to hold the item in place until the adhesive dries.
Gap Filling Adhesive
Sometimes surfaces that require bonding are not completely flat. This requires a construction adhesive with high gap fill. Adiseal has high gap fill and it also does not slump. This make it ideal for use in overhead applications as well.
Over Paintable
Flexible Construction Adhesive
Heavy duty construction adhesives that set hard can produce a brittle bond. This adhesive bond can weaken over time due to vibration, contraction & expansion. This can happen for different reasons including temperature changes and moisture changes in the air.
Virtually Odourless
Products that contain solvents require good ventilation to be used. A harsh smell is produced from the solvents that need to evaporate away from the product for it to cure. As Adiseal is solvent & isocyanate free, it does not have this problem. It is virtually odourless when it is applied.
Solvent Free
A problem with solvent based products are they can damage sensitive materials like mirror backing & polystyrene. Adiseal is very safe to use on these sensitive materials as it is solvent free.
No Shrinkage or Cracking
Another problem with solvent based product are they have less active ingredients. This makes the adhesive shrink and crack as the solvent needs to evaporate away for the adhesive to dry. This can pull the adhesive adhesive away from the surfaces that need bonding creating a weak bond. As Adiseal does not contain solvents, it does not shrink or crack. There is more active product in the tube and provides a much stronger bond than other construction adhesives.
Sometimes using cheaper products end up costing more as once they fail they need replacing. For a trades person, this can be an issue. Time is money and they have a reputation to keep up of good quality work.
EC1 Plus certified
Adiseal has the lowest VOC and has been certified the top certification, EC1 Plus.
ISEGA Certified
Not all construction adhesives are suitable for use in food preparation areas. Adiseal is suitable and has been certified ISEGA to show it's suitable for use in kitchens and other food preparation areas.
Construction Adhesive Dry Time
Adiseal dry time can take 24 to 48 hours to fully cure. This dry time can increase in colder temperatures. If the items starts to move away, then temporary supports may be required to hold the items in place until the dry time is complete.
Construction adhesive for concrete
Adiseal can also be used as a construction adhesive for concrete. To demonstrate this we have bonded a number of different items to a concrete block. This was done without the need for a primer. As concrete is porous, some products require the concrete be sealed first with a primer. Sealing of the concrete is not required when trying to stick items to it with Adiseal construction adhesive for concrete. It simply requires both surfaces are thoroughly clean before applying the adhesive.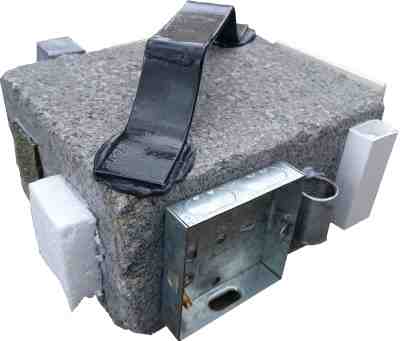 On the concrete demo block, no primer was used to seal it. It was simply cleaned thoroughly by brushing it. A fine brush like a painting brush helps remove fine dust.


How to use construction adhesive
How to use construction adhesive
Clean surface

An adhesive bond is only as strong as the surface it is stuck on. If the surface of the material is dirty, dusty, greasy or painted, this needs to be removed first to get a good clean surface for the adhesive to stick to. It is recommended to use a fine brush like a painting brush on some dusty surfaces to remove fine dust.

Apply adhesive

Apply the adhesive to one material surface. Covering as much surface area as possible will increase the overall bond strength.

Push materials together

Firmly push the materials together.

Use temporary supports if required

If the items starts to move away, then use temporary supports until the dry time is complete. Extra high initial grab adhesives can remove the need for temporary supports. The dry time for Adiseal is 24 to 48 hours.
Data Sheets
It can also be manufactured in any RAL colour.
How to remove construction adhesive
Some products can be deactivated with chemical products. To remove Adiseal products, this requires mechanical methods. To remove cured Adiseal, use a sharp item like a knife if access is available. If access is not available then use a sharp wire like a clay cutting wire to cut it.
Free tube offer
We're giving away a free tube of Adiseal White to any trades person. See offer page for more details.
Construction adhesive UK
To buy Adiseal construction adhesive in UK, please contact us to find your local stockist. Outside of the UK our products construction adhesive UK, can be purchased from the distributor of your country. If there is no distributor in your country then please visit www.guglue.com who can ship worldwide.
Frequently asked questions about construction adhesive
What is the best construction adhesive?
In an independent test, Adiseal was found to be the best construction adhesive. It was a lot stronger than all the other products that were tested. The results of the test are as follows:

Max pressure when adhesive bond broke (psi)
Adiseal: 3123+
SupaBond: 1115
Tec 7: 1016
HB42: 942
Loctite PL Premium: 873
Gorilla Grab Adhesive: 862
Bond It PU18: 582
Bond It Save Nails: 411
Where can I buy construction adhesive?
In the UK, Adiseal can be bought from stockists. For other countries Adiseal products can also be bought from https://guglue.com
Can Adiseal be used as a construction adhesive for concrete?
Yes Adiseal works on many different materials. It can be used as a construction adhesive for concrete to stick many different items to concrete.
Can construction adhesive be used for exterior applications?
Adiseal is a waterproof product so it can be used as an exterior construction adhesive as well as for interior applications. It is also UV resistant and stays flexible.
Can construction adhesive be used as a caulk?
Adiseal can be used for several different applications including as an adhesive, sealant, caulk and filler to name a few. It is extremely strong, waterproof and easy to smooth when applied.