Professional Construction Products
At Adiseal Ltd, we pride ourselves on being a leading provider of exceptional adhesive and sealant solutions. With a strong commitment to quality, innovation, and customer satisfaction, we have become a trusted name in the industry.
Trusted Solution for High-Performance Construction Products
Our Mission:
At Adiseal Ltd, our mission is to deliver the highest construction products that meet the diverse needs of our customers. We strive to provide reliable, durable, and versatile products that offer exceptional performance in various applications.
Industry Expertise:
With years of experience in the field, we have developed deep expertise in formulating and manufacturing adhesives and sealants that excel in even the most demanding environments. Our team of skilled professionals brings extensive knowledge and a passion for delivering top-notch solutions.
Cutting-Edge Products:
We take pride in our comprehensive range of cutting-edge adhesive and sealant products. Our formulations are carefully crafted to deliver superior bonding strength, excellent durability, and long-lasting performance. Whether you need an adhesive for construction, industrial, automotive, or household applications, we have the right solution for you.
Uncompromising Quality:
Quality is at the core of everything we do. We are dedicated to maintaining the highest standards throughout our manufacturing process, ensuring that each product meets rigorous quality control measures. This commitment to quality has earned us the trust and loyalty of our customers.
Customer Satisfaction:
At Adiseal Ltd, customer satisfaction is our top priority. We believe in building long-lasting relationships with our clients by understanding their specific needs and providing tailored solutions. Our responsive customer service team is always ready to assist, offering guidance and support to ensure the best possible experience.
Environmental Responsibility:
We are committed to minimizing our environmental impact. We prioritize the use of sustainable materials and eco-friendly manufacturing processes. By adopting responsible practices, we strive to contribute to a greener future and promote sustainability.
Partnerships and Collaborations:
Adiseal Ltd believes in the power of collaboration. We actively seek partnerships and collaborations with industry leaders, suppliers, and customers to drive innovation and stay at the forefront of adhesive and sealant technology. These collaborations allow us to expand our expertise and deliver even more effective solutions to our valued clients.
History and Background
Adiseal has been operating for over 10 years becoming a leading brand in high performance construction products, especially in adhesives and sealants. We are based in Preston in the UK. After supplying our high performance construction products in the UK for several years, our products are now sold all over the world due to our high performance reputation. We have customers even as far as Australia and New Zealand even though we have not done any advertising outside of the UK. This is through word of mouth due to the high performance of our products.
Expertise and Experience
The founder of Adiseal Ltd, has many years of experience in working with construction products on building sites. He worked as a qualified electrician installing designing and installing electrical wiring. His area of expertise was in the inspection and testing of electrical installations. His qualifications also include C&G 2381 and C&G 2391.
Another area of the construction industry is the home emergency repair business he has also worked in for several years. Speaking to people with home emergency repair requirements and the trades people who could fix these problems, he understood the value of good quality products.
After this he worked with one of the biggest electrical wholesaler in the UK, dealing with the product requirements of trades people on a daily basis.
He has also previously worked in the manufacture of nuclear fuel which requires very high safety standards and high quality control.
Whilst studying for his degree he worked at a chemical manufacturing company that specialised in the developing and manufacturing of award winning cleaning, hygiene and livestock protection products for over 100 years.
He has taken this practical knowledge and experience then combined it with his degree in BEng (Hons) Electronic Engineering to come up with construction product solutions that outperform competitor products in the construction material market.
One example of this is our record breaking strongest adhesive and sealant Adiseal, which was proven to be way stronger than anything else in an independent test by Ultimate Handyman.
Real life examples
Having worked on construction sites, we understand when poor products let you down. This costs time, money and reputation for trades people. We understand that sometimes using cheaper products end up costing more than better quality products. That's why Adiseal Ltd is dedicated to providing the best performing construction products on the market. We do this by extensive research and testing in the lab as well as testing the products in real life examples.
Our staff have also successfully used Adiseal adhesive and sealant to carry out construction, DIY and repair work in their own homes. Some examples of this include repair a leaking felt roof, stick Indian stone to a brick wall in a garden and bond a stainless steel mesh over a air vent hole to prevent bee infestation.

Quality and Certifications
Adiseal Ltd have introduced high quality professional construction materials to the UK market through extensive research, development and testing. Using the latest technology, the Adiseal adhesive and sealant is the best grab adhesive and sealant available in the market.
Adiseal products are manufactured in the highest quality environment to ISO 9001/2 standards & have a number of additional certificates including EC1 Plus & ISEGA certification.
In addition, Adiseal Ltd has been identified as a potential nominee for the Construction and Engineering Awards 2023.
Adiseal adhesive and sealant has also featured in the Professional Heating & Plumbing Installer magazine.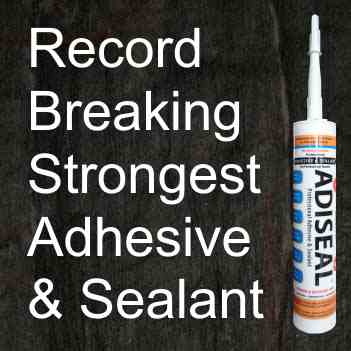 Customers
Adiseal Ltd are professional construction products & building materials suppliers to the following types of trade merchants:
Builders Merchants,
Plumbers Merchants,
Electrical Wholesalers,
Engineering Merchants,
Architectural Ironmongers,
DIY Stores,
Automotive Merchants,
Garden Centres, & Outdoor Shops.
For Adiseal Ltd to be building materials suppliers to your company, you will need to have a trade counter.
End users include high end professional trades people as well as DIY users.
Examples of professional use
Some examples of where Adiseal adhesive and sealant has been used successfully include:
Bonding of industrial freezer panels where other products failed.
Bonding of metal bearings on bridges.
Refurbishment of University halls of residence
Testimonials
Due to the high performance of our Adiseal adhesive & sealant in an independent test by Ultimate Handyman, he said about the result
"That is actually unbelievable!"Ultimate Handyman
Other testimonials & some comments on the: Grab adhesive tests 2017, video on YouTube
That Adiseal is phenomenal!
That Adiseal is some stuff though, definitely need to get some of that bought!
I instantly went looking for Adiseal!
Need to get my hands on some of that to try out.
Looks like a cracking product.
Having used the two most expensive brands on numerous occasions, I'll be trying out the others, especially the Adiseal.
Adiseal certainly surprised me in this test!
Fantastic tests. It's unbelievable that Adiseal test with the hardwood.
Contact Us
To learn more about our range of adhesives and sealants or to discuss your specific requirements, we invite you to get in touch with our friendly and knowledgeable team. We are ready to provide expert advice and find the perfect solution to meet your needs.
Our address is:
Adiseal Ltd
Unit 29
St Marys St
Preston
PR1 5LN
Tel: 01772 556658
Email:
https://goo.gl/maps/s6DBJMjUoqeiVQ8t8
The Adiseal Brand
Performance: We're constantly trying to make sure our products are the best performing construction products on the market. To do this our lab tests products to the extreme. Unlike other manufacturers, we also try to test our products in real life applications, not just in the lab. Due to the high performance of our products, they're now sold all over the world.
Value: We aim to provide good quality value to our customers. We don't supply the cheapest or the most expensive construction products, but our customers should be getting value for what they buy from us.
Quality: Our products need to perform consistently to the highest standards. Extensive testing and research is carried out in the lab and in real life examples to determine if our products meet our high quality standards.
Integrity: Our products perform extremely well but they do not perform miracles. If we feel that our products are unsuitable for a particular application, then we will advise you instead of selling you unsuitable products. There are other manufacturers who make bold claims about their products without providing any evidence. We back up our claims with data & test results especially if they have been independently tested.
Service: We want our customers to be happy with Adiseal, not just only with our products but with us as people as well. If for any reason our products do not perform then we will be more than happy to reimburse you. We have experts who have been working in the construction products field for many years. Some of them have worked on construction sites, building, installing and testing before working with construction products.
Reputation: Like all good quality tradesmen who take pride in their work, we take pride in our products and service. We do not want to just supply you with construction products, but we also want you to recommend us to other people because of how we perform. Due to the high quality reputation of the Adiseal products, we now have customers all over the world even as far as Australia and New Zealand.
Distributors of International Brands
Adiseal Ltd are also the UK distributors of international brands. Our team of professional Sales Representatives also represent in the UK, UltraLube, RALI & AjustLock. If you want your brand represented in the UK then contact us. Adiseal Ltd can offer a complete distribution service in the UK including warehousing, sales representation, marketing & delivering to customers.

International Distribution for Adiseal
Adiseal Ltd are looking for distributors for other countries to represent & sell Adiseal's professional construction products & building materials in other countries. Please contact us for further detail.
GuGlue eCommerce website can post Adiseal products to the USA, Canada & other countries. Visit https://guglue.com/
Privacy Policy
Details of the policy can be found on our privacy policy page.