Professional Construction Products
Adiseal Ltd are professional construction products & building materials suppliers to the following types of trade merchants:
Builders Merchants,
Plumbers Merchants,
Electrical Wholesalers,
Engineering Merchants,
Architectural Ironmongers,
DIY Stores,
Automotive Merchants,
Garden Centres, & Outdoor Shops.
For Adiseal Ltd to be building materials suppliers to your company, you will need to have a trade counter.
Adiseal Ltd's record breaking strongest Adiseal adhesive & sealant is the No.1 product. It is way stronger than anything else.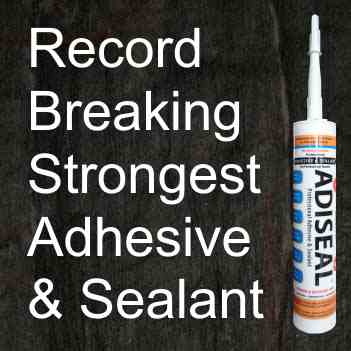 Contact Us
Our address is:
Adiseal Ltd
Unit 29
St Marys St
Preston
PR1 5LN
Tel: 01772 556658
Email:
https://goo.gl/maps/s6DBJMjUoqeiVQ8t8
Construction Materials, Sealants & Adhesive Suppliers
Adiseal Ltd have introduced high quality professional construction materials to the UK market through extensive research, development and testing. Using the latest technology, the Adiseal adhesive and sealant is the best grab adhesive and sealant available in the market.
As Adiseal Ltd are building materials suppliers of high performance construction products only, trades people trust the Adiseal brand to get the job done.
Adiseal products are manufactured in the highest quality environment to ISO 9001/2 standards & have a number of additional certificates including EC1 Plus & ISEGA certification.
The Adiseal Brand
Performance: We're constantly trying to make sure our products are the best performing building materials on the market.
Value: We don't supply the cheapest or the most expensive building materials, but our customers should be getting value for what they buy from us.
Quality: Our products need to perform consistently to the highest standards.
Integrity: Our products perform extremely well but they do not perform miracles. If we feel that our products are unsuitable for a particular application, then we will advise you instead of selling it to you.
Service: We want our customers to be happy with Adiseal, not just only with our products but with us as people as well. If for any reason our products do not perform then we will be more than happy to reimburse you.
Reputation: Like all good quality tradesmen who take pride in their work, we take pride in our products and service. We do not want to supply you with building materials but we want you to recommend us to other people because of how we perform.
Distributors of International Brands
Adiseal Ltd are also the UK distributors of international brands. Our team of professional Sales Representatives also represent in the UK, UltraLube, RALI & AjustLock. If you want your brand represented in the UK then contact us. Adiseal Ltd can offer a complete distribution service in the UK including warehousing, sales representation, marketing & delivering to customers.

International Distribution for Adiseal
Adiseal Ltd are looking for distributors for other countries to represent & sell Adiseal's professional construction products & building materials in other countries. Please contact us for further detail.
GuGlue eCommerce website can post Adiseal products to the USA, Canada & other countries. Visit https://guglue.com/