(Last Updated On: 2 June 2023)
Gap Filling Adhesive
When there's a gap between two materials that need to be joined together, a gap filling adhesive is essential. Adiseal, a high-performance adhesive and sealant, excels in filling gaps with its impressive properties. This adhesive not only creates a strong bond with high gap fill, but also retains flexibility, waterproofing ability, and is solvent free. Additionally, we'll explore the options for best gap filling adhesive in this article.
Why is a gap filling adhesive a better option than a regular adhesive in certain applications?
When attempting to adhere two items together, it is common for the surfaces to be uneven or irregular. As a result, when the items are joined together, certain areas will make contact while other areas will remain separated by a gap. This is especially true for materials with uneven or non-flat surfaces, which can make it difficult to achieve a secure and lasting bond.
When using a glue or adhesive with low gap fill, the resulting bond will only be effective where the two surfaces are in close proximity. However, if there are gaps between the surfaces, the adhesive will not be able to sufficiently fill the space, leading to a weaker bond. Adiseal, a high-performance adhesive and sealant, offers superior gap filling properties to ensure a strong and durable bond. In contrast, other adhesives may even fail to reach certain areas, leaving holes and ultimately resulting in a lack of adhesion.
Best gap filling adhesive
Adiseal has undergone an independent test conducted by Ultimate Handyman to determine its adhesive strength, and the results were remarkable. In the test, which involved assessing the bond strength between wood and metal, Adiseal proved to be the strongest adhesive available also determining it's performance as a grab filling gap adhesive. In fact, nothing else came close to the exceptional performance of Adiseal. To see the test results for yourself, check out the video below.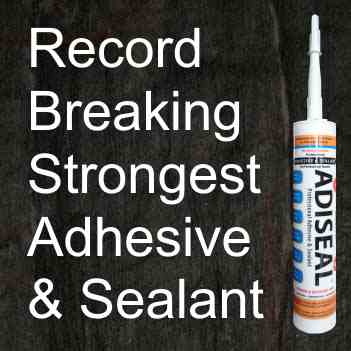 Construction adhesive strength test
Ultimate Handyman conducted various tests to determine the strongest construction adhesive in the market. One of the tests involved measuring the pressure required to break the bond between wood to metal. To accomplish this, the following steps were taken:
The metal sheet was thoroughly cleaned.
Each construction adhesive from different manufacturers was applied to a piece of hardwood.
The wood was firmly pressed onto the metal.
The adhesives were allowed to cure.
A hydraulic ram was used to break each adhesive bond.
The pressure at which each bond broke was measured.
The best grab adhesive was Adiseal
"That is actually unbelievable!"

Ultimate Handyman
Testimonials
That Adiseal is phenomenal!
That Adiseal is some stuff though, definitely need to get some of that bought!
I instantly went looking for Adiseal!
Need to get my hands on some of that to try out.
Looks like a cracking product.
Having used the two most expensive brands on numerous occasions, I'll be trying out the others, especially the Adiseal.
Adiseal certainly surprised me in this test!
Fantastic tests. It's unbelievable that Adiseal test with the hardwood.
Solvent free gap filling adhesive
When it comes to adhesives, solvents can cause a host of problems. Cheaper adhesives often contain solvents, as they are less expensive to manufacture. However, solvents can cause issues with gap fill. Solvent-based adhesives cure as the solvent evaporates, leaving less active product in the cartridge. As the adhesive shrinks during curing, it may pull away from the material it is adhered to, resulting in a weaker bond and less gap fill.
Adiseal, on the other hand, is a solvent-free adhesive and sealant that does not shrink once applied. This high-performance adhesive provides excellent gap filling properties and creates a strong, flexible, waterproof bond. In contrast to solvent-based mastic adhesives, Adiseal offers superior performance and durability. Check out the video below to see for yourself how Adiseal compares to solvent-based adhesives.
Applications & Benefits
Adiseal is a versatile heavy duty construction adhesive that can bond and seal a wide range of materials including metals, wood, glass, mirrors, concrete, masonry, stone, tiles, polystyrene, roof felt, fibreglass, most plastics, and many other items. In addition to its bonding capabilities, Adiseal can also seal a variety of applications such as baths, showers, gutters, drains, sinks, vehicles, boats, felt roofs, and many others.
Many benefits of Adiseal include:
Works in dry, wet, and even underwater conditions
Best grab and grip strength
Waterproof sealant and adhesive
Gap filler adhesive
Resists mould and prevents fungal and bacterial growth
Fast power grab
Over paintable
Non-brittle
UV resistant
Virtually odourless
Isocyanate and solvent-free
No shrinkage or cracking
Good resistance to chemicals
EC1 Plus certified
ISEGA certified – safe for use in food preparation areas
Adiseal is the ideal solution for professionals and DIY enthusiasts looking for a reliable adhesive and sealant that can handle a wide range of applications.

Colours
Gap filling grab adhesive
Adiseal adhesive & sealant is a high-performance, gap filling grab adhesive that creates a strong bond with impressive properties. For even higher grab, you can use Adiseal Hi-Grab gap filling grab adhesive, which is designed to be very thick, providing even higher gap fill and grab properties. However, due to its thickness, a good quality sealant gun (caulking gun) is required to extract the product from the cartridge. With Adiseal Hi-Grab even larger gaps can be filled.
Gap filling glue
Adiglue is a high-performance gel glue that excels in gap filling. Its thick gel formulation allows it to remain in place while drying, resulting in higher gap fill properties than traditional liquid glues. Unlike solvent-based products, Adiglue is solvent-free, so it does not shrink during the curing process. To speed up the drying process and seal porous materials, Adiglue activator can also be used.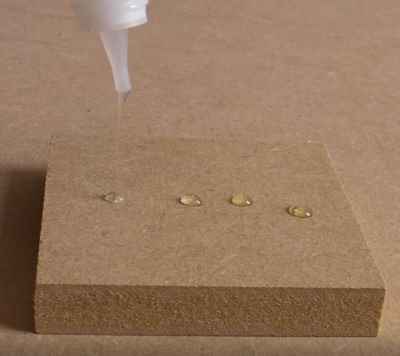 The following video demonstrates the thicker gel formulation of Adiglue, which enables it to remain in place in gaps while it dries.
Frequently asked questions about gap filling adhesive
What is the best gap filling adhesive?
Adiseal was found to be the strongest construction adhesive on the market, outperforming all other products tested. Adiseal is solvent free, ensuring that it doesn't shrink or crack over time. Its flexible and waterproof properties make it ideal for a wide range of applications.
Where to buy gap filling adhesive?
In the UK, Adiseal can be purchased from stockists. For other countries Adiseal products can also be purchased from https://guglue.com
What is gap filling adhesive?
A gap filling adhesive is an adhesive that can fill a high gap between items that need sticking together. It will remain in place in the gap whilst it dries instead of running down.
How to store Adiseal gap filling adhesive once it's been opened?
Once a cartridge of Adiseal has been opened, leave about 1cm worth of product out of the nozzle. This part will cure and create a cap. Store the Adiseal cartridge in a dry place. Adiseal should still be OK to use for a good few months if stored in good conditions. If the the product has cured further down the nozzle then either cut or replace the nozzle.