Adiseal – Adhesive & Sealant
(Last Updated On: 18 January 2022)
What is the best adhesive & sealant?
There are many manufacturers who claim to have the best grab adhesive, strongest adhesive & most flexible adhesive. What is the best construction sealant to repair a leaking gutter? With so many different construction adhesives & construction sealants available, it can be quite difficult to find the best product. Adiseal is a multipurpose product that outperforms dedicated products for particular jobs.
Best grab adhesive?
Different manufacturers will claim their product is the best grab adhesive. They'll claim it's the No.1 product, strongest, most flexible, best construction adhesive or greatest construction sealant. In reality only one product can be the best & strongest. With so many different products claiming to be the best, the only way to find out is to independently test them.
Grab adhesive strength test
To find the best grab adhesive, Ultimate Handyman carried out several independent tests. In the test the impressive Adiseal literally blew away the competition.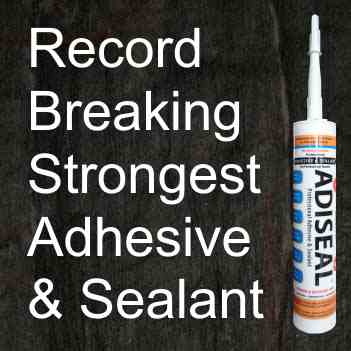 To carry out the grab adhesive strength test, Ultimate Handyman applied each product between hardwood & metal. A hydraulic ram was then used to break the adhesive bond between the hardwood & metal. The pressure at which each bond broke was measured.
The strongest adhesive was easily Adiseal
Adiseal was way stronger than any other competitor product. It was over 3 times stronger than the nearest competitor. In fact it was so good that the screws holding the test rig down started to rip out and the hydraulic ram seal broke, forcing the test on Adiseal to be stopped. Adiseal was too strong for even the test rig & easily the strongest product by far.
The bond between the hardwood to metal for Adiseal still did not break at over 3123+ psi, whereas all the other grab adhesives broke at 1115 psi or less. Results in the chart below show Adiseal is one seriously strong grab adhesive.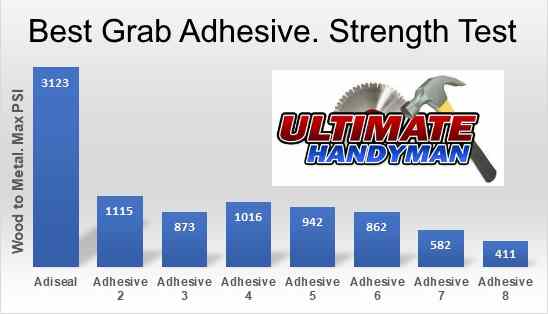 | | |
| --- | --- |
| Product | Max pressure when adhesive bond broke (psi) |
| Adiseal | 3123+ |
| SupaBond | 1115 |
| Tec 7 | 1016 |
| HB42 | 942 |
| Loctite PL Premium | 873 |
| Gorilla Grab Adhesive | 862 |
| Bond It PU18 | 582 |
| Bond It Save Nails | 411 |
Results of adhesive strength test between wood and metal
"That is actually unbelievable!"

Ultimate Handyman
Click here for the video of the test is on Ultimate Handyman's YouTube channel.
Testimonials
Testimonials & some comments on the: Grab adhesive tests 2017, video on YouTube
That Adiseal is phenomenal!
That Adiseal is some stuff though, definitely need to get some of that bought!
I instantly went looking for Adiseal!
Need to get my hands on some of that to try out.
Looks like a cracking product.
Having used the two most expensive brands on numerous occasions, I'll be trying out the others, especially the Adiseal.
Adiseal certainly surprised me in this test!
Fantastic tests. It's unbelievable that Adiseal test with the hardwood.
What about other grab adhesives?
Ultimate Handyman has carried out a number of tests over the years, the results of which are on his YouTube channel. The old formula Adiseal was also tested along with some of these other products, including products from Soudal, Geocel & C-Tec.
Adiseal vs CT1
It's easy for manufacturers to claim their own construction adhesive & sealant is the No.1 product & better than competitor products. Does the reality actually match the manufacturers marketing hype. For this reason, rather than us just say Adiseal is better than CT1, we say let us prove it to you how Adiseal is better than CT1 adhesive & sealant.
Proof?
Adiseal is much better & lower priced than CT1 & BT1. For further details & proof on how Adiseal is better than CT1 & BT1, please send us an email. As we can prove Adiseal is better than CT1, for trades people in the UK we are offering a free tube of Adiseal White so you can test yourself how Adiseal is better than CT1 & BT1. See the offer page for more details. We say rather than listen to manufacturers marketing hype, to find out how Adiseal is better than CT1 & BT1 is to test it yourself.
Is CT1 really 360% stronger?
Some manufacturers make very big claims about their products, like being 360% stronger than competitor products. Are these big claims really true? Without the evidence to back it up, any big claim is just manufacturers marketing hype.
Adiseal has proven to be the record breaking strongest adhesive in an independent adhesive strength test.
Adiseal Ultra Clear is also more clear than CT1 clear sealant. It also stays clear in water better than CT1 clear sealant & adhesive.
Why pay more for a brand name when it's performance that matters. We say separate hype from reality.
Adiseal strongest again in metal to metal adhesive strength test
Adiseal was also strongest again when Ultimate Handyman carried out a similar strength test between metal to metal. Finishing top again, Adiseal is not just good but the best grab adhesive by far. With Adiseal being such a great adhesive, is it any good as a sealant?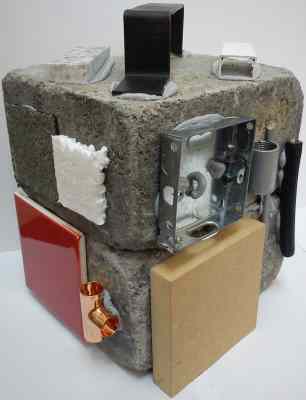 What is the best sealant?
Best mould resistant sealant test
To find out what is the best construction sealant, we carried out several tests including a mould resistance test. The test was carried out by applying the different sealants inside new plastic cups then filling the cups half way with tap water. Each cup was then covered and kept in the same conditions, so as to be fair to all the products being tested. The best sealant was Adiseal where it had the strongest mould resistance from the sealants tested. This can be seen in the image below.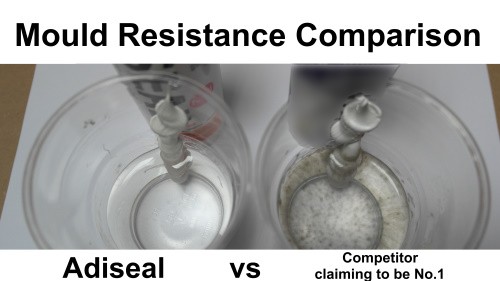 Mould resistance test result
Even after 90 days of being submerged in the same tap water, both the sealant & water are still very clear in the Adiseal cup. One of the competitors product being tested, claimed to be the No.1 adhesive and sealant. This other product which is more expensive than Adiseal, didn't perform as well as Adiseal in the mould resistance test. Unlike the competition Adiseal doesn't just claim to be No.1, Adiseal can prove it.
As well as Adiseal having the strongest mould resistance, Adiseal also seals instantly, works in the wet & even underwater.
Are you looking for a clear sealant?
Adiseal Ultra Clear sealant & adhesive is one very clear sealant. Other construction sealants might say clear on the tube but when you apply them they are instead cloudy or have coloured tint. Cheaper silicone sealants tend to be very cloudy, almost white in colour when you apply them instead of being clear.
Adiseal has strongest colour retention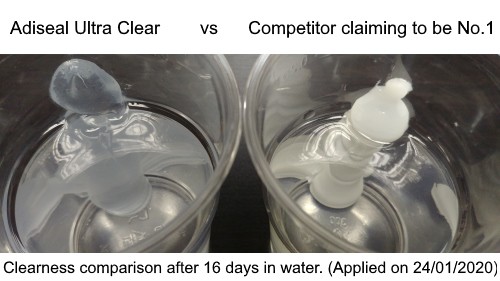 As well as Adiseal construction sealant having the strongest mould resistance, Adiseal also has the strongest colour retention even underwater. The competitor product in the image is more expensive than Adiseal and it also claims to be the No.1 construction adhesive & construction sealant. As can be seen in the image above, the competitors clear product has turned white when in contact with water.
Colour retention test
The colour retention test was carried out with a number of different clear sealants & adhesives from different manufacturers. Each product was applied inside new clean plastic cups, filled half way with water, covered & kept them in the same conditions.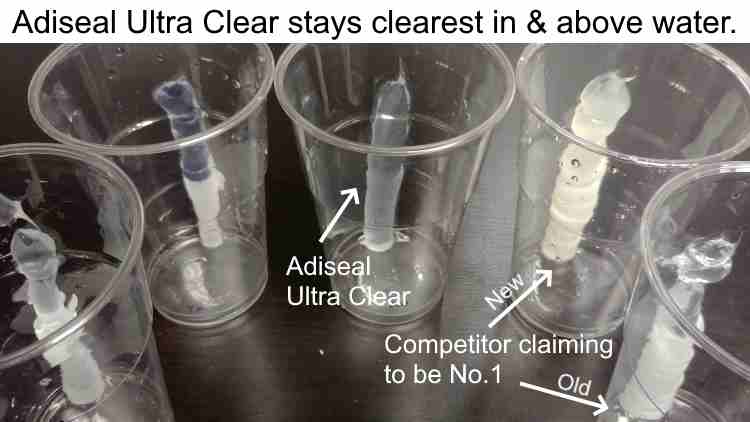 Adiseal top in colour retention test
Adiseal was the only product to stay clear in & above the water. The worst performer was the new clear product from the competitor claiming to be the No.1 construction adhesive & construction sealant. It was the only product to turn white completely, even the half that was above the water. In fact their old formula clear sealant & adhesive performed better as it turned white in the water only.
Why pay more for a brand name when it's performance that matters. We say separate hype from reality.
Separate Hype From Reality
Some of our competitors claiming to be No.1 fail to match their hype even when they are more expensive than Adiseal.
In a previous test by Ultimate Handyman to find out the best grab adhesive, the competitor claiming to be the No.1 adhesive & sealant finished 8th out of 10. We say separate hype from reality and don't fall for manufacturers marketing hype. Why pay more for brand names when they don't perform as well as Adiseal. The performance of the product is more important than the brand name.
Adiseal Applications & Benefits
This section will look at what materials & items Adiseal will bond & seal:
Bonds: Metals, wood, glass, mirrors, concrete, masonry, stone, tiles, polystyrene, roof felt, fibreglass, most plastics & many other items.
Seals: Baths, showers, gutters, drains, sinks, vehicles, boats, felt roofs & many other applications.
Benefits of Adiseal include:
Works in dry, wet, even underwater
Best grab
Waterproof adhesive & sealant
Fast power grab & grip
Gap filler adhesive
Over paintable
Non brittle
UV resistant
Virtually odourless
Isocyanate free
Solvent free
No shrinkage or cracking
Flexible adhesive
Prevent fungal growth
Prevent bacteria growth
Good resistance to chemicals
ISEGA certified – safe for use in food preparation areas
Suitable for interior & exterior use
The standard adhesive drying time for Adiseal is 24 – 48 hours to fully cure. Curing times can increase in colder temperatures.
Details of benefits
Works in dry, wet & underwater
Adiseal works in the dry, wet & even underwater. Imagine a leaking gutter and it's raining outside. With Adiseal, the leaking gutter can be sealed straight away even if it's raining outside. The location of the leak from the gutter can be seen & fixed immediately.
A dry day will be required first to apply the sealant & there is no way of checking immediately if the gutter has been sealed or not with other products. With Adiseal, the leak can be repaired & tested immediately. It will also provide good strong seal that will last a very long time. That's just one of the reasons why Adiseal is the best gutter sealant.
Adiseal waterproof adhesive sealant, seals & bonds underwater as well. The water doesn't need to be removed from the item being sealed or stuck to. This can save a lot of time and therefore money as well.
Waterproof adhesive
Adiseal is also the strongest waterproof adhesive available. It works great for many different applications where a waterproof adhesive is required providing a strong waterproof bond that will last a long time.
Tip – When using a waterproof adhesive where there is a chance of water running behind the item, it is best to apply the product in thin vertical strips. This allows any water to run down between the waterproof adhesive instead of building up on top of the waterproof adhesive.
Instant Power Grab
Adiseal is also a fast grab adhesive with very high initial power grab & grip, even on wet surfaces plus underwater as well. For even faster instant power grab, use the Adiseal Hi-Grab adhesive. It has phenomenal instant power grab & grip with an extremely strong bond. It is available as a white adhesive only.
See the Hi-Grab page for more information.
If there is no need for extra high initial grab or if temporary supports can be used then it is recommended to use the standard Adiseal adhesive & sealant. The reason for this is because the Adiseal Hi-Grab product is a very thick product therefore requires a lot of pressure to push the surfaces close together.
Please note the Adiseal colours have a stronger initial grab & bond strength than the Adiseal Ultra Clear. It is recommended to use Adiseal Colours over Adiseal Ultra Clear when being used as an adhesive.
Gap Filling Adhesive
Adiseal has high gap filling properties and is ideal when trying to bond something where there is a gap between the surfaces of the materials. This is usually the case when the material is not smooth, for example natural stone that is roughly cut. The high gap filling properties of Adiseal allows a strong bond whether the surface is flat or not. Adiseal will also avoid slumping when used in overhead applications due to it's high gap filling property.
In most cases other products like contact adhesives do not have high gap filling properties. Even if a product is applied all over the surface area, if there is a high gap between 2 surfaces, there still won't be any product holding the 2 items together. This vastly reduces the strength of the overall bond.
Over Paintable
Adiseal is available in the following colours: white, black, grey, brown & ultra clear. Adiseal can be manufactured in any RAL colour. It is also over paintable with most paints. For solvent & oil based paints, compatibility testing is required. Sanding the surface slightly can help the paint adhere better. Waiting until Adiseal has fully cured is recommended before painting over it. Adiseal can take 48 hours for it to fully cure.
Tip – Own paint colour can be mixed into Adiseal Ultra Clear to make an adhesive & sealant match the exact colour required. Use a piping bag, tube or cartridge to apply the custom coloured Adiseal.
Flexible Adhesive
Adiseal is the proven strongest flexible adhesive available. A flexible adhesive allows a bond to be non brittle. Adiseal allows for movement due to temperature & moisture changes as well as soaking up vibration, creating the strongest flexible bond. The bond on a non flexible adhesive will eventually fail because it will become brittle over time. Using a flexible adhesive like Adiseal will create strong & longer lasting bond.
Virtually Odourless
Adiseal does not contain solvents or isocyanate. It does not have that harsh solvent smell that comes from other products that do contain solvents. Other products containing solvents will require well ventilated area requirements for use. This is not a problem for Adiseal as it's very safe & virtually odourless.
Solvent Free
Solvents in an adhesive or sealant will attack any item it is applied to. Some items can be very sensitive to solvents like polystyrene which is a common insulation material in buildings & other items like bath panels. Polystyrene will melt when in contact with solvents. Adiseal does not contain any solvents making it non aggressive & the best polystyrene adhesive.
Mirror backing is also very sensitive to damage from products that contain solvents. Adiseal is the strongest mirror adhesive available on the market.
No Shrinkage or Cracking
Adiseal does not shrink or crack as it's not filled with solvents. Other products are filled with solvents to make them cheaper to manufacture but this results in there being less active product in the cartridge. This causes the product to shrink & crack as the solvents evaporate away. As Adiseal does not contain solvents, there is more active product in the adhesive sealant tube & therefore no shrinkage or cracking when it's applied. Adiseal is also designed to stays permanently flexible and not become brittle.
Problem of using cheap products
One problem of using a cheap silicone sealant to seal a bath, shower, basin or any other item is that the sealant will start to peel away from the surface before it's cured. This is because of the sealant shrinking due to the solvent escaping from the cheap silicone sealant. This is the same problem when using a cheap adhesive that contain solvents leaving a weaker bond than better products like Adiseal.
As Adiseal does not any contain solvents, it provides a much stronger bond & better seal that will last a lot longer than other products. Using cheaper products sometimes end up costing more as once they fail, it will have to be removed & replaced. This costs time & money, especially for tradespeople as they have to keep a reputation for quality work.
EC1 Plus certified
Adiseal is certified EC1 Plus meaning it has the lowest certified VOC for adhesives & sealants.
ISEGA Certified
Adiseal is ISEGA certified meaning it is suitable for use in food preparation areas. Adiseal is the ideal kitchen sealant as it's certified safe for use in food preparation areas.
Suitable for interior & exterior use
Adiseal is a high performance product that is waterproof. It performs equally well when used as an interior adhesive sealant as well as an exterior adhesive sealant.
When Adiseal is being used on items like roof felt, Adiseal will not only stick the roof felt but will seal the roof at the same time.
Best construction adhesive & construction sealant for specific applications
Due to the high performance of Adiseal, it's the best product to use for many different applications. It outperforms competitor products in many different applications including: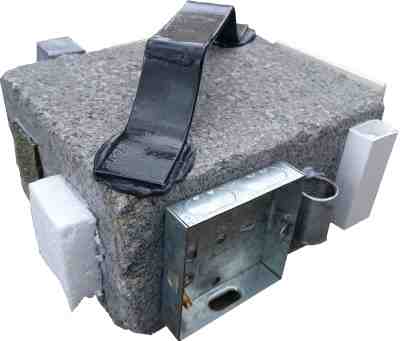 A detailed guide on adhesives is also available on our website.
Applications
As well as it being used in construction and DIY applications, Adiseal is also strong enough to perform on high end industrial needs.
Industrial adhesive sealant
Some of the industrial applications Adiseal has been successfully used is to:
Bond industrial freezer panels where other products failed.
Bond metal bearings to concrete bridges.
Seal & bond a variety of applications on boats.
Seal in warehouse used for a food manufacturing production line.
Maintenance of University halls of residence.
Small items
For items that have a small surface area, the Adiglue glue product might be more suitable but it will provide a more brittle bond than Adiseal.
Surface preparation
The maximum strength of any adhesive or sealant will only be as strong as the weakest surface it is being applied to. If the products are being applied to a dusty surface then it will only be as strong as the dust that is stuck to that surface. To get the best results before applying any adhesive, sealant or paint is to make sure the surfaces the product being applied to are free from dust, oil, grease, paint, or any other dirt.
Adisolve solvent cleaner is the ideal product to prepare a surface. It is very effective yet non aggressive adhesive remover, sealant remover & solvent cleaner in one product. Adisolve will also help remove oil, tar, grease, chewing gum, wax & many other stubborn deposits. Adisolve is available in a 500ml aerosol spray can.
Electrical insulation sealant
Standard sealants are not suitable for use as electrical insulation gel. Electrical waterproof gel is designed to insulate from high voltage. They are also designed not to set hard so that it remains re-enterable in case the electrical connections require access to.
Data Sheets
Free tube offer
We're giving away a free tube of Adiseal White to any trades person. See offer page for more details.
Where to buy Adiseal
In the UK, Adiseal products can be bought from Adiseal stockists. To buy in the USA, Canada or any other country, visit https://guglue.com/ who will post to other countries.
Frequently asked questions about adhesive & sealant
What is the best grab adhesive?
The best grab adhesive according to an independent test was Adiseal. The results of the test are as follows (max psi at which grab adhesive bond broke):

Adiseal: 3123+
SupaBond: 1115
Tec 7: 1016
HB42: 942
Loctite PL Premium: 873
Gorilla Grab Adhesive: 862
Bond It PU18: 582
Bond It Save Nails: 411
What is the strongest adhesive?
The strongest adhesive according to an independent adhesive strength test was Adiseal. To carry out the test, the adhesive bond between wood and metal was broken with a hydraulic ram. Whereas all other adhesives being tested broke at 1115 psi or less, Adiseal went over 3123 psi and still did not break.
How do you remove adhesive?
To remove adhesive based on solvent, Adisolve can be used to deactivate the adhesive. Spray Adisolve on the adhesive to soften it. Then use a sharp item to scrape off the old adhesive.
What is the difference between adhesive and glue?
The difference between adhesive and glue is glue usually cure quicker than adhesives but provide a non-flexible brittle bond. Adhesives have more initial grab and grip than glue. Adhesives have higher gap fill than glue. Products like Adiseal stay flexible, unlike glue.
What is the best construction sealant?
The best construction sealant is Adiseal. It is seals instantly, stays permanently flexible, does not shrink or crack and can be applied to dry, damp wet surfaces and even underwater.
Which product is better, Adiseal or CT1 adhesive and sealant?
The better product is Adiseal. It has proved to be the strongest product in an independent test. To find out specific details of how Adiseal is better than CT1, please send us an email.