Kitchen & Bathroom Sealant: Better Than Silicone
Adiseal is a high-performance kitchen sealant and bathroom sealant. It is ISEGA certified meaning it is certified for use in food preparation areas like kitchens. When using a sealant for kitchen, not every sealant like silicone is certified. Adiseal is certified and provides a strong, high-performance seal in kitchens and bathrooms. It is also able to seal instantly even in wet conditions and outperform other sealants. Adiseal can be used to seal around sinks, baths, worktops, tiles, splash backs, panels and many other areas in a kitchen or bathroom.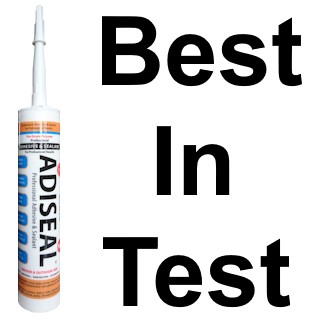 Kitchen safe sealant
Adiseal is one of only a few sealants that is certified ISEGA, suitable for use in food preparations areas like kitchens. Adiseal provides a strong waterproof seal in kitchens and bathrooms. It also has strong mould resistance and durability. Adiseal is also EC1 Plus certified as it doesn't have any VOC.
Strongest mould resistance
In our tests we found Adiseal to have the strongest mould resistance from the products we tested. The test was carried out by first applying the sealants from various manufacturers inside new clean plastic cups. The cups were then filled with tap water half way, covered and stored in a cool dark place. After several days of being exposed to the water, Adiseal emerged as the sealant to have the strongest mould resistance.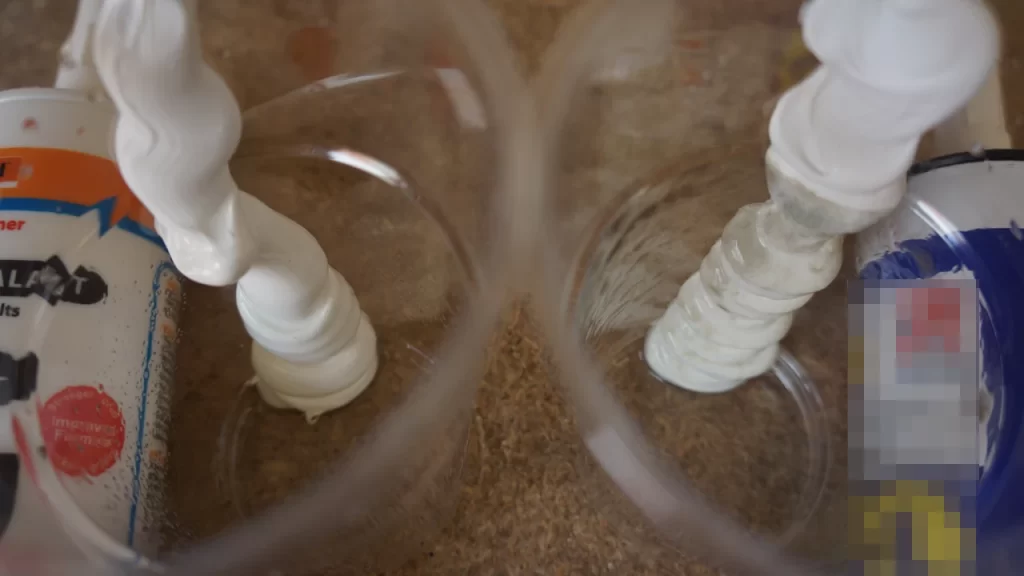 Instant waterproof seal
Adiseal has the ability to create a waterproof seal in bathrooms and kitchens instantly even in wet conditions. This makes it quicker to test the new seal.
Solvent-free
As Adiseal is solvent-free, it is safe for use on sensitive materials like polystyrene which is sometimes used bath panels. A solvent based sealant like silicone sealant will attack and melt sensitive materials like polystyrene. Solvent based sealants and adhesives also have a harsh smell when newly applied which requires good ventilation for application. This is not a problem for Adiseal due to its solvent-free formula.
Colours
Adiseal kitchen and bathroom sealant is available in black, white, grey, brown and clear.
How to apply a kitchen sealant
How to apply a kitchen sealant
Surface preparation

Clean the surfaces thoroughly before applying new kitchen or bathroom sealant. Remove any old sealant if there is any.

Apply sealant

Using a sealant gun (caulking gun) apply the sealant by squeezing the trigger. Try to apply steady pressure and run the sealant gun along the sealing area at a steady pace. Apply enough sealant to fill in any holes.

Tool the joint

Use a tool or your finger to get a good clean finish on the sealant. If the sealant sticks to the tool or finger then use very soapy water to stop this.

Remove excess sealant

Remove any excess sealant by wiping it away before it cures.

Allow to cure

Allow the sealant to cure before testing the seal. Products like Adiseal can seal instantly meaning it can be tested on immediately after application.
Where to buy
To buy kitchen sealant or bathroom sealant in the UK, please contact us for details of a local stockist. For other countries that do not have a distributor, you can buy from www.guglue.com
Frequently asked questions about kitchen and bathroom sealant
Which sealant is best for kitchens?
Adiseal is certified ISEGA meaning it is certified for use in food preparation areas. It also provides a strong, flexible, waterproof and durable seal.
Do you need to put a sealant around a kitchen sink?
It is important to put a sealant around a kitchen sink as there is a very high chance of the presence of water around sinks. This water can seep into any gaps which can then cause water damage to porous materials. Sealing around the kitchen sink will create a waterproof barrier to stop this water seeping into any gaps.
How long does kitchen/bathroom sealant last?
Generally, sealants last between 5 to 10 years. However, the lifespan can vary based on the quality of the sealant, application, and exposure to moisture.
How do I remove old sealant?
Use a utility knife or a special sealant removal tool to cut and scrape away the old sealant. Apply a sealant remover or solvent to loosen it if needed. Ensure the area is clean and dry before applying new sealant.